UPDATE: The "Juncker for President" Campaign Trail – Visit to Athens, 19 May
Brussels, 18 May 2014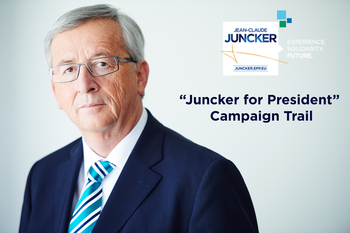 Sunday 18 May – Athens, Greece
21:30:
Jean-Claude Juncker holds a short press point
(Address: Hotel Divani Apollon Palace 10 Agiou Nikolaou and Iliou, Vouliagmeni-Kavouri)
Monday 19 May – Athens, Greece
11:45: Jean-Claude Juncker visits the construction site of the extension of the Athens Metro and meets the construction workers.
(Address: Metro station Agia Varvara, Agias Eleousis Street and El. Venixelou Avenue)
 
13:00: Jean-Claude Juncker visits the Frontex Operational Office along with Miltiadis Varvitsiotis, Minister for Shipping; and Nicos Dendias, Minister for Public Order.
(Address: Akti Vasileiadi, Gate E1-E2, Drapetsona, Pireaus)
14:15: Jean-Claude Juncker visits the Acropolis Museum and attends a lunch hosted by Prime Minister Antonis Samaras.
(Address: Acropolis Museum, 15 Dionysiou Areopagitou street, Athens)

PROFILE: Antonis Samaras, Prime Minister of Greece: Antonis Samaras has been the Prime Minister of Greece since 2012 and has undertaken courageous reforms to help the Greek economy recover.
Before becoming Prime Minister, he was Minister of Foreign Affairs, Minister of Finance and Minister of Culture and Sports in several Greek governments.
16:30: Jean-Claude Juncker and Kostis Hatzidakis, Minister for Development and Competitiveness, attend an event on innovation at the Corallia Clusters Initiative, with prominent Greek start-up projects.
(Address: 12 Sorou Street, Maroussi)